DISCOVERY NORTH LAKE GARDA
An itinerant trek spread over a number of days discovering the Lake Garda area – the crown of the Trentino region.
1,126 €
Duration: 6 Days
Participants:
with 4 persons
[The Price varies depending on number of participants]
Difficulty:
Dates:
from 6th to 11th July 2020
from 15th to 20th September 2020
Request more info
DISCOVERY NORTH LAKE GARDA
An itinerant trek spread over a number of days discovering the Lake Garda area – the crown of the Trentino region.
A system of paths which are connected between each other will allow us to move around on foot carrying a back pack, enjoying breath taking views every day, walking across valleys and meadows and seeing interesting historical landmarks from castles and areas touched by the Great War. This system's pivotal point is Lake Garda, Italy's largest lake, which every year attracts millions of tourists from all over the world thanks to its beauty and charm.
The Mediterranean climate positively influences the vegetation which ranges from olive trees to woods of oak trees and pastures, until you reach your destination up high at altitude and final arrival point each day.
The participants will be able to fully experience the true atmosphere of a real mountain hut, taste local products and enjoy a night up at altitude.
The difficulty level is medium, there is no exaggerated vertical height gain and the treks are never too difficult, however each participant will have to organize his/her own back pack to satisfy his/her needs throughout the five days of trekking,
The only prerequisites are the spirit to adapt and the wish to live an adventure!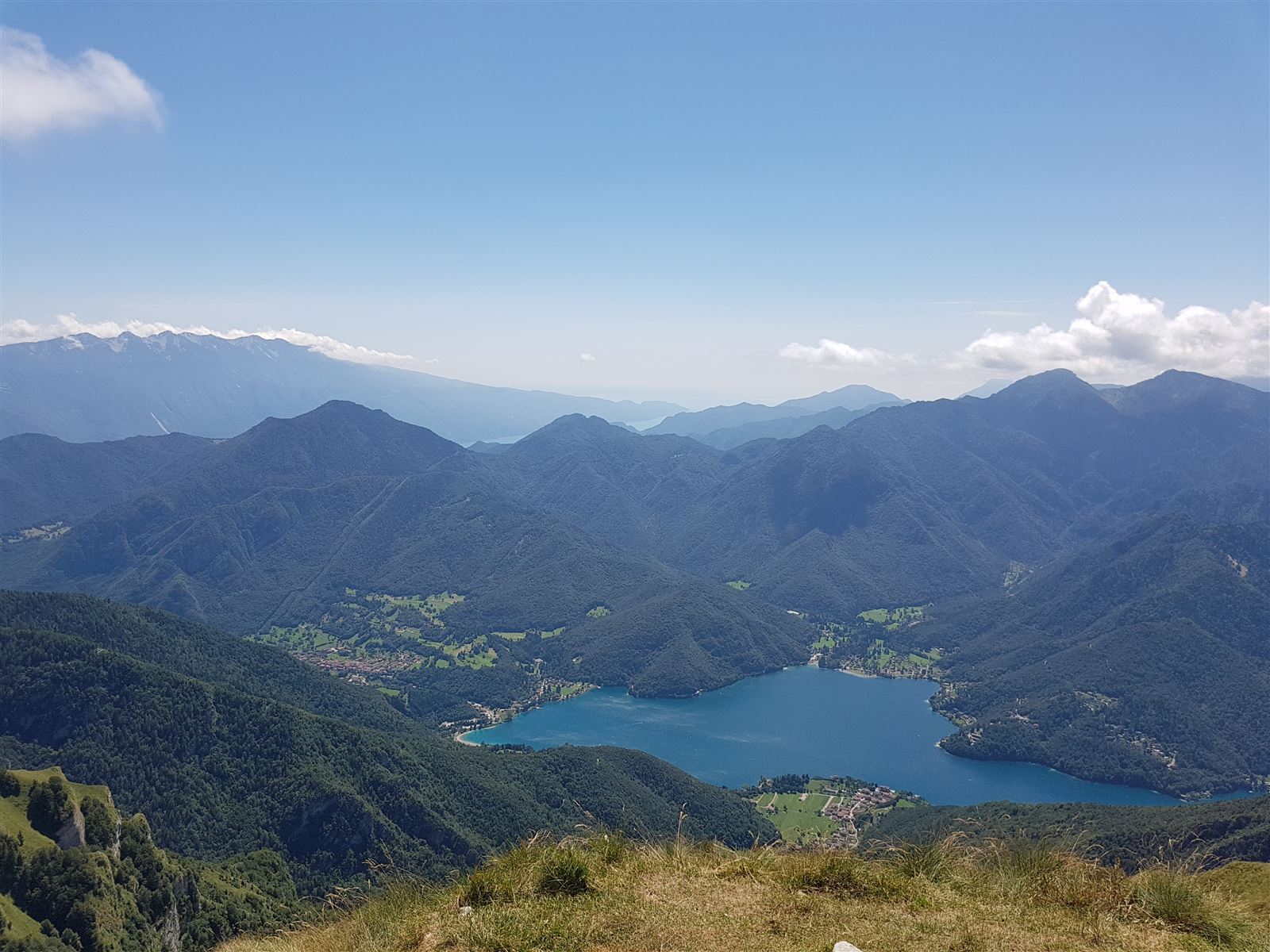 1,126 €
Duration: 6 Days
Participants:
with 4 persons
[The Price varies depending on number of participants]
Difficulty:
Dates:
from 6th to 11th July 2020
from 15th to 20th September 2020
Services included:
Assistance throughout the trekking by UIAGM certified Mountain Guides or certified trekking guides.
Overnight stays in mountain huts with dinner and breakfast included.
Overnight stay in 3 star hotel in Torbole.
Dinner at restaurant in Arco.
Transfers where needed.
RC and injury insurance
Maps and cartographic material for each participant
Photos and videos
Extra services :
Packed lunches
Anything not mentioned in "services included"
What to bring:
Trekking shoes/boots
Shorts/trousers
Socks + underwear
T-shirts and thermal technical gear (easier to dry)
Long sleeved thermal tops
Wind/rain jacket
Sun cap
Warm clothes for sleeping at altitude
Sun glasses and sun cream
30 litre back pack
Sleeping sheet
Water bottle and snacks (dried fruit and muesli snack bars)
DAY 1
itinerary km 5.7 – time of itinerary 3.5/4 hours – vertical height gain ↑ 490 m ↓390 m
Start at Riva del Garda with a transfer to Val di Ledro (approx.. 45 min) until we reach Malga Trat (1502 m). From here the excursion shortly leads (20 mins) towards Bocca di Trat and Rif. Nino Pernici (1600 m). Once past the mountain hut head towards south along the panoramic ridge which divides val di Ledro and Ledro Lake from valle dei Campi di Riva, until you reach Bocca di Savàl and climb up to cima Pari (1991m) in roughly 1:30 h. Then return for dinner and overnight stay at Rif.Nino Pernici.
DAY 2
Itinerary km 11.5 – time of itinerary 7/8 hours – vertical height gain ↑ 820 m ↓1450 m
Start off from Rif. Nino Pernici heading towards north-east, along path n.445, first slightly uphill and then downhill through woods and flat sections until you reach Lake Tenno (570m), with its turquoise water. It is possible to jump in for a refreshing swim and stop off for lunch here!
During the afternoon the walk runs along Lake Tenno along an easy path through the woods, to then continue and reach Rifugio M. Calino S. Pietro (974 m), passing through the characteristic historic centre of Canale di Tenno for a short visit (approx.. 2.30 hours). Aperitivo with a view of the lake, dinner and overnight stay at Rifugio S.Pietro.
DAY 3
Itinerary xx -time of itinerary 7/8 hours – vertical height gain ↑ 100 m ↓ 967 m
From Rifugio S. Pietro (974m) you gain height thanks to a short ascent up to Monte Calino (1067m), continue across woods and pastures along the flat path with short up and down sections, reaching S.Giovanni al Monte (1056m) in roughly 3 hours. Head downhill along paths and roads (SAT path n. 408) to reach Arco, destination and arrival point of our day (100m a.s.l.). Reach the centre passing through Laghel the city's garden characterised by a secular olive grove right below the majestic castle of Arco (7 km – roughly 2 hours).
Visit Arco's historic centre, characterised by its alleys and streets which lead to the main square with its church.
Night in hotel and dinner at a restaurant in Arco.

*Possibility of transfer from loc. S.Giovanni al Monte to Arco - 25€ extra with a min of 3 people

DAY 4
Itinerary xxx –time of itinerary 8 hours – vertical height gain ↑ m 1680↓ m 1230
In the morning meet up in Arco and transfer with bus (roughly 50 mins) destination Viote del Bondone (1565m). From Viote the trekking climbs up the wide panoramic ridge of Monte Cornetto (2170m). A short stop on the top before heading along one of the most beautiful paths of the Upper Garda area's ridge, the "traverse Cornetto-Stivo" (n.617), with sections which constantly run up and downhill touching a series of minor peaks - Campo Fiorito, La Becca, Carbonil, Rocchetta, Palon, Cima Alta and Cima Bassa – and a few passes which join up the Valle dei Laghi from the Adige Valley. The view from up above allows you to see the entire southern part of Trentino, accompanied by the magical profile of the Brenta Dolomites. The last section becomes more difficult, reaching along the ridge, the peak of Monte Stivo (2050m), the day's destination! The view of Lake Garda from up here is stunning. Rif. Marchetti (2015 m) is 15 min further down on the opposite side, where dinner awaits us and where we will spend the night.
DAY 5
Itinerary km 14 – time of itinerary 6-7 hours – vertical height gain ↑ 430 m ↓ 1200 m
Start off on foot from Rif. Marchetti. During the morning a pleasant downhill path through sweet smelling grassy pastures, from the 2015m of the mountain hut goes past Malga Stivo and reaches the cultivated fields of S.Barbara (1169). From here the path continues downhill through the woods (SAT path n.637) and allows us to reach Maso Naranch (853m), where a delicious lunch awaits us offering typical, local products of Val di Gresta.
During early afternoon, a bus transfer will lead us to a small car park situated at 1560m on the slopes of Monte Altissimo (2053m). We will walk up the north side and in roughly two hours (430m of vertical height gain) we will reach Rifugio Damiano Chiesa for dinner, situated close to the summit.
DAY 6
Itinerary km 8.5 –time of itinerary 4.5-5 hours – vertical height gain ↑ 725 m ↓ 1000 m
After breakfast at the hut continue in a southerly direction along the panoramic ridge of Monte Baldo (SAT path n.351), a stunning environment which overlooks Lake Garda, land of chamois and marmots. Head down to 1425m where Bocca di Navene is situated, to then climb up a few hair pin bends to the 1750m of Colma di Malcesine and reach the top station of the panoramic Monte Baldo cable car. If the weather conditions allow it, alternatively, it is possible to take the "Ventrar" path, a real ledge overlooking the lake, where it is possible to find unique botanical species, typically found in the rocky environment of Monte Baldo.
Take the cable car down into Malcesine and then the ferry which takes you to Riva del Garda where our adventure ends.
Free choice of where to have dinner and stay overnight.
scarica il PDF
Experience nature
ACTIVITIES IN DETAILS
Whether you prefer water or rock, we have the perfect adventure for you.