Active holidays at Lake Garda
WELCOME
Mmove is the only mountain school in the Alto Garda region with a guaranteed weekly program and activities for all tastes and the whole family.
Experienced and enthusiastic
We are happy with your trust in us for the past 18 years, about the great number of new friends we have made, about the common experiences shared around Arco, at Lake Garda and in the Dolomites; and about what is probably the most beautiful job in the world: we are Mountain Guides with great passion and we want to share this with you.
A new identity
With the time our outdoor program has been growing greatly and we don't guide anymore "only" around Arco, but also in the rest of Italy, like in the Dolomites, and even throughout the whole world. Therefore we needed a new and dynamic name, thus during the summer 2016 Friends of Arco has transformed into: "Mmove - into nature. The 'M' stands for mountains, movement, manpower, memories and overall for magic moments.
But everything else remains the same: same team, the same office and at least the same amount of outdoor activities and magical moments.
---
About Mmove
MMOVE MOUNTAINS
Let yourself be captivated by the passion, the professionalism and the Italian charm of the mountain guides and live outdoors in a new way.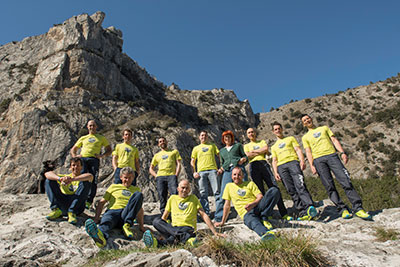 Share enthusiasm
Founder and director of the Mountain School is the Trentino Alpinist Mauro Girardi. He is a certified mountain and ski guide and is directing since 18 years the Mountain School Mmove (former Friends of Arco). In the past, his passion had driven him for weeks to the solitude of the Alps, of Patagonia, or of the icy heights of the Karakorum to climb famous walls and peaks and open up new routes. Today his priorities have moved. He wants to share his enthusiasm for the mountains - while working with his guests and in his spare time with his sons, as his father has once done with him. Mauro Girardi is very proud on its enthusiastic and highly qualified team of local Mountain-and Ski Guides, Hiking Guides and office employees. Mmove is not just a mountain school, but is a steadily growing circle of friends, who would like to realize great experiences. We like to Mmove it !!
---
The Mountains School
OUR TEAM
Time to meet the core team of the Mmove. All Guides hold the International Carnet of the UIAGM / IFMGA and have worked with us for many years.